IWF Calgary Chapter – In the beginning…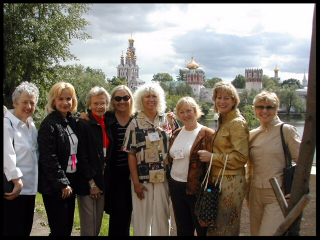 I can't remember the exact date, but I'll never forget our first gathering. Dynamo Kathy Sendall had assumed the chair for the fledgling IWFC Calgary Chapter. She had recently attended the IWF International Conference in Toronto and was so inspired she invited a diverse group of friends and colleagues to share her experience and encourage others to become members. Thirty or so of us assembled in the imposing PetroCanada penthouse boardroom, warmed up by Kathy's generosity of spirit. Joining us from Montreal was the then IWF Canada President Carol Fitzwilliam who shared with us the joys and benefits of membership to this "No guilt old boys club for women". Anyone invited could sign up. So many of us did.
In February 2004, we received an invitation to the Cornerstone Conference in Moscow that June. My career had me going 24/7 and I had little time to make a decision but instinct told me to go. What could I lose? I would discover an unfamiliar part of the world in a safe setting, explore a stimulating agenda and likely meet some fascinating women. It didn't take long to convince Thalia Kingsford and soon we were representing our new chapter in Russia.
We arrived at the Moscow Metropol to a buzz of energy as influencers converged from around the world--women reconnecting with relationships forged through years of conference hopping and new members like us being welcomed with open arms. Our first official non-official function was the infamous Canadian hospitality party hosted that year by Ann Medina and the late great Alison Youngman, a glass of champagne herself.  What a party! It didn't let up until we left ten days later. And not before we began to concoct a future hoedown in Calgary…
One year later at a conference in Washington on a terrace reception overlooking the Mall, Ann and Alison volunteered us to host the IWFC AGM in Calgary during Stampede. We gathered the troops and galvanized an extraordinary team of enthusiasts to host 60 members from across Canada. What an extravaganza – but it was a bittersweet AGM at the Palliser Hotel as we saw the Vancouver Chapter separate from IWF Canada to become its own forum. We persevered and since then, our sister chapters have brought us together annually in different cities to host the AGM and celebrate the treasures of their regions.
Since 2006, Calgary members have proudly contributed at the national and international levels, innovating new initiatives and approaches, bonding across backgrounds and borders. We've come a long way…
From the files of Michèle Stanners 
The IWF Calgary Chapter was formed on January 6th, 2004
IWF Calgary Chapter Video
Contact our Executive:
2021-2022 Calgary Chapter Executive 
The International Women's Forum is a non-profit, non-partisan membership organization based in Washington, D.C. created in 1982. Canada became the second international forum outside of the United States, when it was officially admitted as a Forum and issued letters of patent on October 26, 1995. Founded in Montreal by Vermont Forum member, Patricia Gabel, who became the inaugural President, along with Micheline Bouchard, Diane Bussandri, Mary Larson, Lucie Pépin, Dorothy Reitman, Michèle Thibodeau-Deguire and Mackie Vadacchino, the Canadian Forum was envisioned as an inclusive national organization. When Vancouver became the second chapter of the Canadian Forum in 1998, the governance structure of IWFC was firmly established.
As IWFC continued to expand from its Montreal base, local Chapters of the organization were created in cities and regions across Canada. Vancouver chose to leave IWFC in 2007 to become an independent Forum. Nonetheless, the Canadian structure has been adopted by many other international forums: that is, a country-wide federation with a central governance model and one set of by-laws. IWFC has a national Board of Directors with representation from all of the regional and municipal Chapters. IWFC has always nurtured a special relationship with the international organization such that our members have been invited to assume significant roles on the Board of Directors and Leadership Foundation. This has led to the sharing of best practices between IWFC and the International body.
Since inception, IWFC has continued to adapt the governance structure to meet the evolving needs of a growing organization. The Board has moved from being a hands-on administrative governing entity to a policy driven Board who oversee a professional Executive Director who in turn hires additional support staff. Increasingly, the Board has augmented conference calls with in-person meetings and established a mini-conference in conjunction with the AGM, encouraging the attendance of all IWFC members. A number of national initiatives have been explored in service of our mission "to develop and exercise women's leadership."
Functionally, the organization is dependent on membership fees which subsidize the Chapter and Forum activities as well as support the global organization's office. The Board is responsible for this distribution. The Board directs the affairs of the Forum in such a way to ensure that the Chapters are the "engines" of the organization while the Board determines strategic priorities and fosters a sense of national identity and belonging. The Board is charged to maintain standardization of membership practises and facilitate both internal and external communications. Only the national President has the authority to speak publicly on behalf of IWFC, unless she delegates that responsibility. IWFC has hosted international conferences and has established a protocol with our Embassies when we attend conferences abroad.
IWFC created an Archivist position in 2011 to continue to capture the history of IWFC. Historical materials together with the Corporate Minute Book and the By-Laws, provide a fulsome insight into the IWF Forum in Canada.
As IWFC continued to expand from its Montreal base, local Chapters of the organization were created in cities and regions across Canada:  Toronto (1999), Calgary (2000), Ottawa (2000), Atlantic (2001), Waterloo (2007) and Edmonton (2009).  The IWFC Calgary Chapter was formed in 2000.